Wings, beer, sports and the art of perfecting your value proposition
Valcort 35 Keys to Business Growth:  #11  Have a true, simple and clearly worded statement to describe your unique and proven value to customers.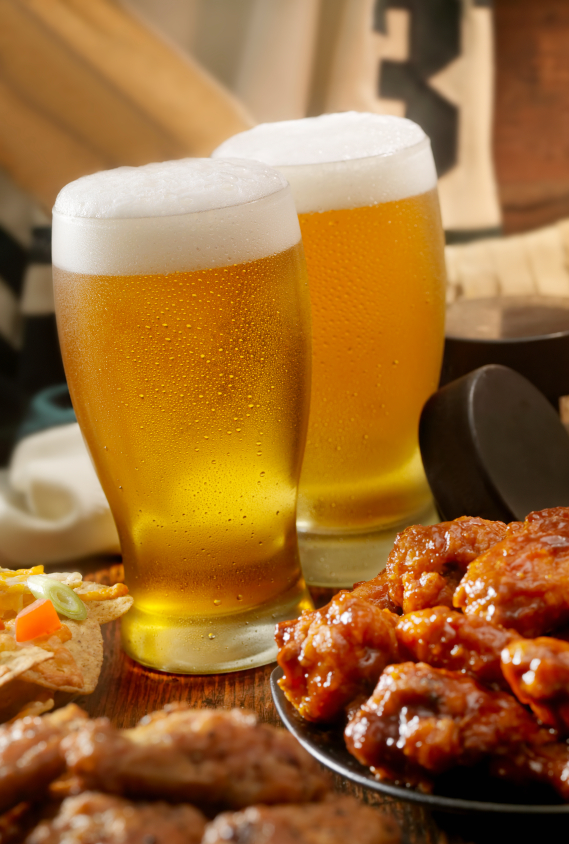 A recent transplant to the Chicago area, I've found the city to be hard working, tough and matter-of-fact.  The city's sports culture shares those characteristics, fielding high-quality teams and demanding much of them. In this environment, I was struck by the brilliance of a timeless marketing proposition for the popular sports bar/restaurant  Buffalo Wild Wings (introduced in 2001) that I hear frequently on sports radio: Wings. Beer. Sports.
It's a slogan that provides a precise value proposition, laser focused on the sports fan looking for a place to settle in to watch a favorite sports team while enjoying spicy wings and a beverage.
A compelling and differentiating value proposition determines whether people will bother reading more about and acting on your offer, or opt out. Simply put, a value proposition is a business or marketing statement that summarizes why a consumer should buy your product or use your service. This statement should convince a potential consumer that one particular product or service will add more value or better solve a problem than other similar offerings.
In doing this, it's likely you'll need this statement to target customers who will benefit most from using your unique solutions. The ideal value proposition is concise and appeals to the customer's strongest decision-making drivers–frustration and other emotions.
You'll pay a high price when customers can't immediately grasp your value proposition. And your proposition will most often fail when you lose sight of customer desires, needs, and frustrations. Your key challenge is identifying an effective value proposition, then communicating it clearly.
How do you take this important move toward business growth and success?  Here are 4 market-tested steps to creating a winning value proposition.
1. Check your values, vision, core identity and assets
Before you go to market, be sure you know who you are and where you are going (if you don't know where you're going, you're likely to end up nowhere).  What does your company stand for? What do you and your senior leaders value? What are the company's legacy, reputation, recognized brands, associations and relationships? What is your vision? Firm convictions and understanding of these core issues are fundamental to taking the next step.  Don't miss square one.
2. Conduct external research and analyze it
Value statements should be based on an accurate understanding of customers' needs, frustrations and buying habits, as well as a sharp view of your current competitors, of trends in the marketplace, and of other conditions that may create opportunities. This means more than casual conversations with your own teammates in the executive dining room. It requires carefully designed research and broad participation within your company, as well as discussions throughout your industry. How do you know which features and services are most important to your customers? Ask them–starting with your most important customers and key accounts.  It is valuable to have a third party help with your research because too often you'll miss many important observations and differentiation, because you're in the "trees."   (We can help take a fresh, unbiased look, and uncover assets you many miss.) 
Analysis of the data and recommendations from this research will prepare you to begin work on a value proposition. First, consider what you' ve learned about your company and products, your customers, and your competitors, and enumerate what you've learned in the following areas (Hat tip to WiderFunnel, which introduced the configuration that we adapted here):
Product Value Diagram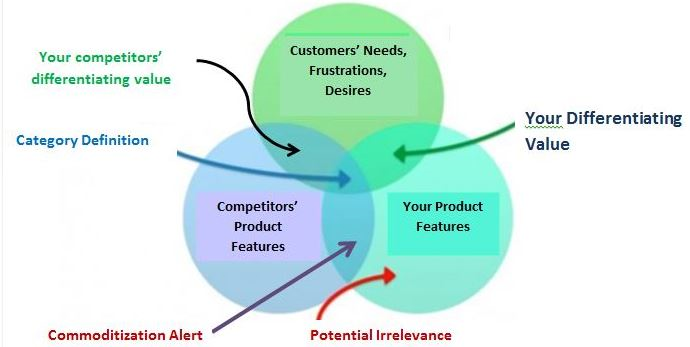 Your Differentiating Value: Here's where you can win the game. These are the features that are important to your prospects and not available from your competitors. They should be emphasized in your value proposition.
Potential Irrelevance: Although your product probably includes some features not provided by competitors, if they are of little interest to prospects and customers they will drive you toward irrelevance, not value.
Commoditization Alert: Features and products that are common in the industry but ho-hum to customers are candidates for commoditization and economy pricing.
Category Definition: These are the features you offer that are important to your prospects that you also share with your competitors. Think of them as the basic entry requirements to the game. Your prospects need to know that you offer these features, but they simply define you as a part of a category and they won't impress anyone.
Your competitors' differentiating value: Your competitors may offer some features of interest to prospects that you don't.  This will impact how you position yourself, and lights should be flashing in your innovation  lab. How can you offer more value?
3. Crafting a creative value proposition that communicates
Based on internal and external research and deliberation, develop a hypotheses about what your value statement should include. Then pull together your team and begin crafting. A good value proposition is:
 Clear. It's easy to understand. If your value proposition makes people scratch their heads, you're doing it wrong. Use language people can read and understand. Your value proposition needs to be in the language of the customer. It should join the conversation that is already going on in the customer's mind. In order to do that you need to know the language your customers use to describe your offering and how they benefit from it. [You cannot guess what that language is. The way you speak about your services is often very different from how your customers describe it. The answers are outside of your office. You have to interview your customers to find it out. [See #2 above.]
Concrete. It communicates the concrete results a customer will get from purchasing and using your products and/or services.
Differentiating. It says how it's different or better than the competitor's offer. A key role for the value proposition is to set you apart from the competition. Check out 4-5 different options/ service providers before they decide (See # 2 above). You want your offering to stand out in this important decision-making phase.
Realistic. It avoids hype (like 'never seen before amazing miracle product'), superlatives ('best') and business jargon ('value-added interactions').
Short. It should be read and understood in about 5 seconds. If people have to read a lot of text to understand your offering, you're doing it wrong.
Emotionally connected.  The statement must tie to the emotional drivers your customers experience.  These change over time, too, so review these often.
Check out 18 value propositions that are working well.
4. Value proposition testing and improvement
Traditionally, marketers have relied solely on their own thinking to come up with the right features to create and emphasize. Sure, they may get input from small groups of customers with surveys and focus groups before you roll it out, before you commit significant time and resources to your new idea, thoroughly test your value proposition. You don't get a second chance to make a first impression; so before you go big with your proposition, test it with external groups that represent current customers and prospects. (We can help).
Find your value. And communicate it with conviction.
_____________________________________

The Valcort 35 Keys to Business Growth. Over many years and hundreds of client relationships and strategic marketing opportunities, we have established the Valcort 35 Keys to Business Growth, best practices that build trust, align values with products and practices, and create organic growth. We are exploring these 35 practices, one at a time, on these pages. Find them all, as they're introduced, here.
Tags:
Valcort 35 Keys to Business Growth
,
Value Proposition
---