Increasing your margin and moving pianos
Valcort 35 Keys to Business Growth: #10 Understand why customers value your products and services as well as your competitors' products and services, and what drives their choice.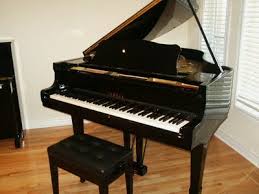 When she answered she was pleasant, helpful and engaging.
I needed a good quality mover that could protect my sleek black grand piano from harm as I moved from one home to a new one. She was a good sales person for Company A and was selling their standard moving services. For me, I wanted more than moving services, I wanted my piano moved without a scratch.
As I talked through the process with her, it became more and more frustrating. She was articulate and worked hard to tell me it would be safe, but she could not give me the assurance I was looking for.  Simply, she didn't offer what I wanted to buy.
I needed a better answer.  So I called her competitor. The rep of Company B responded with a similar pitch, reassuring me that my piano would be safe. I also noted he was more expensive. Then, he surprised me. For a small additional fee, he offered to warrantee his service with an additional insurance policy and guarantee the piano would not be damaged. Eureka.
In the end, I paid 30% more to get what I wanted.
Too often we are caught up in selling our familiar products and services to potential customers without understanding what they truly value. A dear friend of mine, past EVP Marketing at a Fortune 50 telecom, once told me: "What customers are buying is not always what a company is selling."
If you don't know what your customers value about your products and services, you're leaving money on the table and missing an opportunity to deeply engage and create their loyalty. Further, if you don't know what your competitors are offering and how they deliver more value, you're doubly behind.
Premium pricing, loyalty and advocacy exist where high value is perceived and delivered. In my case, I gladly paid more because I valued Company B's services more than Company A's.
The values people hold, drive the choices they make. This VALCORT principal of growth is true of all your stakeholders — your customers, employees, vendors and shareholders. If you know what they value, you can create better engagement, trust, loyalty and advocacy. Unfortunately, a vast majority of organizations don't know how to capture and understand what their stakeholders value.
If you're interested in improving your margins (what would 30% more mean to your bottom line profitability?), increasing customer loyalty, and sparking advocacy, find out what your customers value about you, your products and your services. And equally important, find out what they value about your competitors.
Then position your organization as a premium, responsive problem solver with unique, valuable products and services and watch your bottom line grow.
____________________

The Valcort 35 Keys to Business Growth. Over many years and hundreds of client relationships and strategic marketing opportunities, we have established the Valcort 35 Keys to Business Growth, best practices that build trust, align values with products and practices, and create organic growth. We are exploring these 35 practices, one at a time, on these pages. Find them all, as they're introduced, here.

Tags:
competitive edge
,
margin
,
Valcort 35 Keys to Business Growth
,
value
---