Do You See a Trend?
Valcort 35 Keys to Business Growth:  # 7  Have a process to identify industry trends that will impact a customer's opinion of you.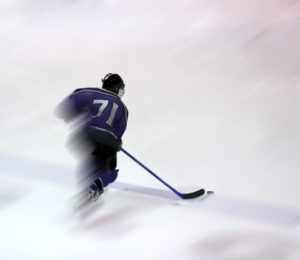 Wayne Gretzky was the greatest ice hockey player of all time not only because of his physical skills, but because he consistently saw where the play was going, where he needed to be a few seconds into the future.  And he saw that faster and clearer than anyone else.
Gretzky said:  "I couldn't beat people with my strength; I don't have a hard shot; I'm not the quickest skater in the league. My eyes and my mind have to do most of the work."
The same is true in business, of course. Companies best prepared for the future are those that most accurately forecast industry, technological, and sociological trends.  Learning and assessing factors such as the impact and potential opportunities of innovation, the use of new media, government regulations, international development and other factors affecting your market and the market's perception of you is a vital part of your business' success.
But even the largest companies and industries find it difficult to pay attention to the trajectory of the puck and struggle to see the trend lines.
Have it your way? Among McDonald's biggest challenges are questions about the freshness and quality of its ingredients. The chain has been losing market share as people gravitate toward foods they feel are more wholesome, heading to places like Chipotle, which markets its ingredients as being of superior quality.  Why couldn't McDonalds look into the future a decade ago and see the customer stampede toward organic and healthy foods?  (Aldi and WalMart seem to be rushing to catch-up on organic foods).
The great disappearing newspaper? Early in the last century the afternoon newspaper was a ubiquitous source of news. But beginning in the 1950s, the popularity of afternoon papers began eroding. The most important factor was the spread of television, which captured an ever-growing part of the leisure time people had spent reading afternoon papers. Most p.m. papers disappeared.  Then late in the century, when people began turning to Internet sites for their news, many in the newspaper industry recognized the need to innovate.  They'd seen this trend before and recognized that if they didn't change, they would die.
The wisdom of Taylor Swift (really).  Leading up to her break with Spotify, surging recording artist Taylor Swift said: "Music is art, and art is important and rare. Important, rare things are valuable. Valuable things should be paid for. It's my opinion that music should not be free." She may be right, but undervaluing artists is exactly what streaming services such as Spotify do (paying a royalty rate of .006 to .0086 per song that's streamed), and it taps into a trend. The millennial generation, born and bred on the Internet, seems to be routinely rejecting ownership. This is not just a problem for the music industry. Did anyone see it coming?
Trends can be difficult to discern, but in order to keep your business ahead of the competition it is imperative that you put processes in place to spot market trends, and to do it continuously, building the process of trend-watching into your operation.
There are many habits and resources that you can tap into today (check out 25 of them here).  To begin now, try these:
Watch your values. In building your business, you have established the core values that guide your decisions, drive your efforts, and point to your corporate north star. As you see trends developing and even beckoning, apply the filters that your values provide. Don't blindly chase the shiny object. All that glitters is not gold.
Make trend spotting part of your daily routine. Get into the habit of researching every day at a time you choose. Each time you research you are bettering not only your company but also yourself. Stay disciplined, stay on track.
Set specific days for deeper investigation. Set a regular day or days, perhaps quarterly, to research your sector for new trends. Protect these times on your calendar.
Persistently investigate competitors. Dissect your competitors offerings and compare them to yours. Do they have an advantage that you can meet or beat? If so, a change in plan might be needed.
Set up and use the free Internet resources. Let existing tools work for you.Use Google Alerts to notify you by email when a story featuring your industry is published. Keep track of the authors and other related stories they may cover. Keep tabs on trends at sites such astrendwatching.com, TrendHunter.com and Springwise.com.
Use what you learn. Turn your research into an asset by applying what you learn to improve your business and create new products and services. This learning process will help you use your time effectively and take action with conviction.
For many more ideas on how to make trend watching a valuable business habit, use our guide of specific ideas for looking into your future. Click here to read Trend Savvy: 25 great ways to keep up with trends that will impact you and your business.
Look wisely into the future by establishing a continuous process to identify industry trends that will impact a customer's opinion of you. Look beyond where the puck is now.  Do you know where the play is going?
______________________________

The Valcort 35 Keys to Business Growth Over many years and hundreds of client relationships and strategic marketing opportunities, we have established the Valcort 35 Keys to Business Growth, best practices that build trust, align values with products and practices, and create organic growth. We are exploring these 35 practices, one at a time, on these pages. Find them all, as they're introduced, here.
Tags:
business trends
,
trend watching
,
trends
,
Valcort
,
Valcort 35 Keys to Business Growth
---