The 15 Friendliest Companies in America
We've asked around to find the companies with the best customer service, focus, and relationships. There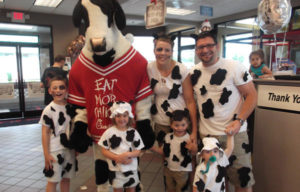 are many companies that do it well, and just as many that don't get it.  Here's our list of the best.
Amazon.com
Amazon, the world's largest online retailer, has the highest customer service satisfaction in the country. It used to be an online bookstore, but later diversified to include, well, everything.
Apple, Inc.
This American multinational corporation focuses on the marketing and development of consumer electronics as well as personal computers and computer software. Founded by Steve Jobs, this company is most popular for its iPod, iPad, and iPhone products
3.    Chick-fil-A
This fast food chain sits atop of its competitors when it comes to customer service. Their customer-centered leadership trickles down to every staff member and restaurant by instilling a policy of good manners and courteousness, speedy food production in the kitchen and cleanliness in each of its restaurants. Chick-fil-A also takes great pride in their hiring practices, expecting each new hire to comply with their company values that include humility, passion for service and genuineness.
Google
Listed as the most visited website in the world, Google specializes in Internet-related services and products that serve people from all over the world. With their mantra of "Focus on the user and all else will follow," Google goes to borderline insane lengths to test how even the smallest decisions impact user experience. For example, when faced with a choice between two shades of blue for a Google toolbar, the company tested 41 shades to see what tested best. Fans can expect that level of attention to detail in all Google products.
FedEx
FedEx Corporation consistently ranks as one of the most admired and trusted corporations in the world. It offers a broad portfolio of transportation, e-commerce, and business services while promising the safety of each and everyone involved. the air freight company has long held a reputation for delivering goods ranging from typical packages to a 320-pound sea turtle on time without damage. Over 40 percent of those who interacted with the brand in the last year ranked FedEx customer service as "excellent.
L.L. Bean
100 percent product satisfaction guarantee. Return anything at any time for any reason.
Netflix
An American provider of Internet streaming media in several countries around the world, Netflix was founded in 1997 and is currently headquartered in Los Gatos, California. In 1999, it began to provide subscription based digital distribution services to its customers. It takes pride on its short wait time when it comes to providing customer service.
Orvis
For customer service the old-fashioned way, shoppers can call a toll-free number and speak to a human being without wading through an arcane automated menu system. Alternatively, Orvis offers live-chat with support staff, e-mail queries, and a guaranteed response time of two hours or less.
Petsmart
A retail chain based in the United States, Puerto Rico and Canada, Petsmart, Inc. sells specialty pet supplies and services for a broad range of animals, including dogs, cats, birds, fish, amphibians and a lot more. Petsmart also provides dog training and helps stray pets find homes with families
Publix
Unlike other companies, Publix is an employee-owned supermarket chain in the United States. It is the largest and fastest-growing supermarket company in the country. Since 1930, Publix has been striving to be the premier quality food retailer in the world. It's no fun being sick, but if you need an antibiotic, the Florida-based supermarket chain will have its pharmacies dispense up to a 14-day supply for some of the most common generic ones free. All you need is a proper prescription.
Sony
Sony Corporation is a Japanese multinational conglomerate headquartered in Tokyo, Japan that specializes in electronics, game, entertainment, and even financial services. The wide range of products and services offered by the company clearly satisfy the consumers.
Southwest
A major airline based in the United States, Southwest Airlines is recognized as the largest low-cost carrier in the world. It is headquartered in Dallas, Texas and has over 46,000 employees as of August 2012. Example of customer focus: Two pieces of checked luggage, no charge. And that includes bulky freight such as golf clubs and skis.
State Farm
Three out of four respondents believe that like a good neighbor, State Farm is there—and they're not the only ones. State Farm was recently ranked the No. 2 firm for customer service, because of their accessibility, ability to solve customer problems, and the emotional connection consumers had to the brand.
The Home Depot
An American retailer focusing on home improvement and construction. Headquartered in Atlanta, it is the largest home improvement retailer in America and currently.
Trader Joe's
Trader Joe's doesn't carry the biggest selection, but it commits to stocking stores with products requested by the local community. The company also values staying ahead of the curve by taking steps like using allergy labels before they were required and stocking shelves with local goods before they reach a national market.
______________________________
Information gathered from these sources:
http://www.businessinsider.com/10-companies-on-the-christmas-customer-service-naughty-list-2010-11
http://list25.com/25-highest-rated-companies-customer-service/
http://www.huffingtonpost.com/2013/08/15/best-customer-service_n_3720052.html?slideshow=true#gallery/312028/0
Tags:
customer service
,
friendliest companies
---