"Your young men shall see visions": Importance of a nonprofit vision
As an organizational leader, do you have a vision? Is your organization focused on a clear and broadly understood vision of your corporate purpose and future?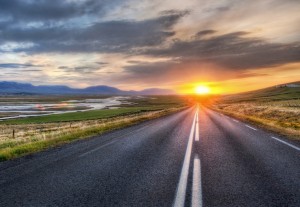 "If there is no vision, " a 1599 version of Proverbs 29:18 reads, "the people decay."  Without a vision, missions can stagnate or waste away. A vision is an answer to the question: "What can and should we accomplish?"
Scott, Jaffe and Tobe in their book Organizational Vision, Values, and Mission, write: "Establishing a vision is picturing excellence—what a person, team, or organization wants to create in its best possible future.  It is an evocative description of what is possible."  The Valcort Group's Chuck Thomas calls vision "held and frustrated values." You know where you want to go, but haven't got there yet.
A vision is not something "out there" that is impractical, but a way of painting a compelling scenario.  It requires the ability to expand one's sense of possibilities without drifting into the ethereal, and then to focus on what new initiatives can lead this stretching yet realistic image of the future. Even though vision directs us to the future, it is important to understand that it is experienced in the present.  Powerful visions are never an escape from reality. A motivating and effective vision will connect today's reality to a view of a better future.
I like the Top Nonprofits blog's description a vision as "a one-sentence statement describing the clear and inspirational long-term desired change resulting from an organization or program's work." The blog also has a list of its 30 favorite nonprofit vision statements:
We've listed below 25 vision statements of large charities, Christian nonprofits, universities, and hospitals.  Some are quite good; others need work.  What do you think of these?  Will they provide the direction and inspiration necessary to guide today's actions?
How about your vision?  Is your vision statement a guiding star for the important work ahead?
20 Nonprofit Vision Statements
Amnesty International: We will not stop until everyone can live in dignity; until every person's voice can be heard; until no one is tortured or executed.
Bread for the World: We can end hunger in our time. Everyone, including our government, must do their part.
CARE International: We seek a world of hope, tolerance and social justice, where poverty has been overcome and people live in dignity and security.
Compassion International: Our vision is that children everywhere will be released from spiritual, economic, social and physical poverty and become responsible, fulfilled Christian adults.
Direct Relief Intenational: Better access to health services for people stuck in this cycle is integral to positive change on a humanitarian level and for economic productivity.
Food for the Poor: To be God's instrument to help the materially poor and to renew the poor in spirit.
Feeding America: A hunger-free America
Focus on the Family: Redeemed families, communities, and societies worldwide through Christ
Goodwill: Every person has the opportunity to achieve his/her fullest potential and participate in and contribute to all aspects of life.
Mayo Clinic: Mayo Clinic will provide an unparalleled experience as the most trusted partner for health care.
Metropolitan Jewish Health System: We are dedicated to those we serve, each other, the community and our business partners.
Northpark University: Our vision, building on our core institutional identity – Christian, urban, multicultural – is to fashion a university of uncommon character and enduring excellence where faith, learning, and service meet.
Oxfam: A just world without poverty
Penn State University: Teaching students to be leaders with a global perspective. Conducting research that improves lives. Contributing millions to the economy and sharing expertise.
Red Cross: The American Red Cross, through its strong network of volunteers, donors and partners, is always there in times of need. We aspire to turn compassion into action
Save the Children: Our vision is a world in which every child attains the right to survival, protection, development and participation.
The Salvation Army: Into the world of the hurting, broken, lonely, dispossessed and lost, reaching them in love by all means, with the transforming message of Jesus, bringing freedom, hope and life
Wheaton College: Wheaton College seeks to relate Christian liberal arts education to the needs of contemporary society.
World Vision : Our vision for every child, life in all its fullness; Our prayer for every heart, the will to make it so.
Wycliffe Bible Translators: Our vision is that God's Word will be accessible to all people in a language that speaks to their heart.
 –Jim Jewell
–Jim Jewell
Tags:
charity management
,
mission and vision
,
nonprofit organizations
,
strategic planning
,
Valcort
,
vision
---