Is spontaneity underrated? The changing face of impulse buying
Adding a pack of gum or a magazine to your shopping cart has helped retailers make a crucial few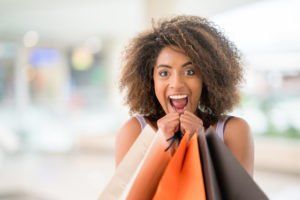 extra dollars for decades. A recent survey by CreditCards.com found that 68 percent of U.S. consumers said their primary location for making impulse buys was "in person in a store." Thirty to 50 percent of all in-store purchases are impulse buys. But that number is slipping.
Digital methods are used for far fewer impulse buys. Only 21 percent said they bought impulsively on a desktop/laptop, and just 10 percent did so on a smartphone or tablet.
So as shopping increasingly moves to e-commerce, is the impulse buy dead? Not even close.
There are efforts underway that recognize the importance of impulse buying to retailers, with stores looking for new ways to encourage spontaneity in buying, and online merchandisers looking to find the impulse magic.
Tips for increasing impulse buying
As companies search for ways to recoup the lost in-store impulse sales, here are four tactics retailers are using to pump up impulse buying—in stores and online.
Be visible, and compelling
Impulse buys are triggered by product encounters, whether in-store or online. For customers to purchase something on the spur of the moment, they must spot it — and be in the mood to respond positively.
As Specialty Retail put it, "Seeing is buying." Donald R. Lichtenstein, a professor of marketing and associate dean at the University of Colorado Leeds School of Business, told the publication that getting customers to see your product is "the first and most important step in impulse buying."
How can you get shoppers to see your impulse products? One effective tactic is using signage. Get the merchandise noticed by using eye-catching signs announcing sales and promos.
Also, be sure to pick your color palette wisely. Hues such as red and yellow have proven to draw attention, but feel free to test out other colors depending on your product and audience.
The most important factor in triggering impulse shopping online is a calm, friendly, and knowledgeable website with attractive merchandise. The ability to browse through aesthetically-pleasing photos helps encourage online "window shopping," without intent to necessarily make a purchase — with the assumption, of course, that eventually the impulse to shop will take control. That's why most (about 87%) impulse buys online are made from users navigating website categories, not via search engines.
Make it easy
If setting a positive mood keeps people scrolling through an e-commerce site, an easy purchasing option is key to sealing the deal.
Obviously, ease of experience is a big factor in if people will shop in any store, digital or brick-and-mortar. However, when it comes to impulse buys, the ease of purchase is even more important, as impulse shoppers are driven more by instant gratification than someone making a purposeful purchase.
Part of increasing visibility (and sales) with impulse purchases entails placing the merchandise where customers are sure to see it. In retail stores, the two most effective ways to pull this off would be positioning impulse products at the checkout area and placing them near your bestsellers.
Placing products at the checkout zone is a common and highly effective tactic. Shoppers who are at the point-of-sale area are likely already in the mood to buy, so the chances of them making additional purchases are relatively higher.
Online, Amazon Prime is one of the most perfectly crafted e-commerce sites for impulse shopping, offering both the ability to buy products with just one click and the promise of delivery in as soon at two hours. Unsurprisingly, Hershey, a company that's facing declining checkout counter impulse sales, has worked with Amazon Prime Now.
"The difference between the physical shopping cart and the online cart is that in the store, shoppers walk down the aisle, see a product at arm's length, it's $2 and they choose to buy it. There is a very low barrier," said a CPG ecommerce technology leader. "To replicate that online, CPG companies have to make it easier to get a product into the cart, and hit shoppers at exactly the right moment."
3. Provide incentives 
The most common incentivizing for the online impulse buy is to offer free shipping — but only after shoppers spend a certain amount. Nearly half of shoppers reported that free shipping caused them to make impulse purchases, according to a 2000 study by The Yankee Group.
When faced with a shopping cart that is $5 short of the free-shipping minimum, it is easy to justify adding one more inexpensive item to the cart.
However, there are infinite ways for e-commerce sites to incentivize low-cost impulse buys, especially through loyalty programs.
4.     Hit the right psychological triggers
Make your impulse buys more noticeable and enticing by pushing the right consumer buttons. Here are some suggestions:
Urgency– Trigger people's sense of urgency through limited-time promos. Consider the Bath & Body Works example above. It included a "Today Only" description in its signage to make the impulse buy more compelling.
Value– Make people see that they're getting a good deal with generous offers. Victoria's Secret for instance runs "Buy two, get two" promos with its impulse products to further encourage shoppers to buy.
Excitement or Novelty– You don't always have to throw in an offer with your impulse products. Often, if a product looks fresh or novel enough, people will notice them. If you have new and original items in your store and they fit the above-mentioned criteria (i.e., handy and low cost), then consider testing them out as impulse buys to see how customers react.
Target impulsive shoppers.
Most research on impulse shopping demonstrates that the biggest factor in if someone will make an impulse purchase isn't anything the retailer does. Instead, it is whether the shopper in question is an impulsive person. This is one area that e-commerce has a huge leg up on traditional retailers. While stores cannot control who walks through the door, online, retailers can control who they advertise impulse buys to.
Online retailers and other digitally-focused companies have a sometimes scary degree of access to our personal information — including how we interact and shop online. Facebook, for example, was able to conduct a massive experiment on how people's feeds could affect their mood, in which it actually made unknowing users happier or sadder.
Sources:
http://www.businessinsider.com/youre-probably-more-likely-to-impulse-buy-in-a-physical-store-2017-3
http://www.businessinsider.com/e-commerce-impulse-buy-category-2015-11
https://www.psychologytoday.com/blog/sold/201207/what-motivates-impulse-buying
https://www.shopify.com/retail/impulse-buying-how-retailers-can-get-customers-to-buy-more-on-the-fly
https://blog.vendhq.com/post/64901826173/encourage-impulse-buys-store-deeper-look-unplanned-purchases
Tags:
impulse buying
,
Valcort
---