Making the best of customer touchpoints
Valcort 35 Keys to Business Growth: # 5   Have a fully coordinated, customer sales approach, drawing a customer into an engaging relationship at every point of contact.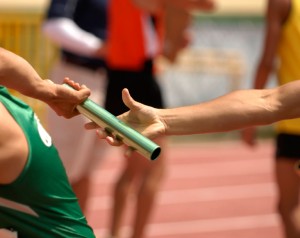 One of my beautiful daughters had a modeling gig for Lands' End recently that put her in the popular catalog and on the company's website. As a proud father, I searched out the Lands' End webpage, found her picture and clicked to look at the various shots. I moved on to other web pages, including Facebook, where I was greeted by a bright image at the top of the right column of my daughter in pigtails and a pink Lands' End snowsuit. My first thought: she's everywhere! But then I realized that Lands' End and Facebook and a whole lot of other people knew where I'd been surfing and clicking. And it looked very much like I was interested in size 4 snowsuits.
You're probably beyond being surprised by the world knowing your Internet habits and looking to exploit them, but for me it suggested something very important about today's customer research and relationships. Now more than ever it is vital that we learn about our customers, their likes, their habits, what dominates their time and pushes their buttons. And while deep and enduring relationships are probably harder than ever to cultivate, getting started has never been easier (or more important).
Engaging customers and prospective customers in authentic and effective relationships starts with research and depends on the development of a spot-on value proposition that is expressed through the work and interaction of every department at every point of contact. Complete engagement requires the coordination of all communication and outreach–including marketing messages, advertising, sales contacts, media outreach, news reports, word-of-mouth, brand contacts, experts' opinions and financial reports.
As you strive to optimize every point of customer contact, remember these important steps:
Establish a strong value proposition, a statement of why a customer should buy your product or service and how it will add more value or better solve a problem than other similar offerings.
Learn the habits and lifestyles of customers and customer segments, including their use of media, events, associations, connections of value to them.
Tailor messages and identify the right media to be used, and the times when these customers are most likely to be receptive.
Coordinate and integrate all aspects of communication and outreach, assuring a common strategy and consistency of message, look and tone. Coordinating tools may include organizational structure, formal management processes, information technology, informal social networks, and collaborative people.
Plan for and assure the coordinated delivery of value at every customer touchpoint, through trust-building messages and experiences–meeting customer needs, telling the truth and always keeping your promises.
Supplement traditional inside-out marketing with an outside-in perspective, viewing customers not as targets but as partners in an ongoing relationship.
Coordinating for Success
To make the best of every customer touchpoint, you need to create and deliver value, not just through the crafting of a value proposition, but also by coordinating messaging and delivering it thoroughly, and with everyone taking responsibility. Few companies do this.
A few years ago our Valcort team was brought in to work with a privately held B2B, mid-cap food ingredient manufacturer. The company had seen tremendous growth for several years that required rapid expansion of products, staff and partners. But the CEO was concerned by flattening growth, the potential loss of some key customers, and internal dissatisfaction.
What we found surprised us. There were 26 different departments with customer touchpoints, involved in the cycle to meet customer needs. And these departments were not only operating in silos, but some were frequently hostile to the other departments critical to a customer service cycle. A few were even resistant to moving projects from one department to another. It was a mess!
What we introduced in collaboration with the CEO and his senior team impacted every part of the company, its culture, and the way it structured itself to optimize customer relationships and service. It resulted in significant growth of the business over the next four years. Customers wanted fast, responsive innovation, but the structure was cumbersome and slow. The solution was establishing business unit groups organized by segments that would require the coordination of individuals and departments involved in product development, communication, customer contacts and the on-time delivery of quality products. The change wasn't easy, of course, but it drove significant new customer engagement and growth. Indeed, relentlessly coordinating the delivery of value at every customer touchpoint transformed the company.
And it can make a difference in your company. Remember this best practice: Have a fully coordinated, customer sales approach, based on a customer's type of business and their use of your products and services, effectively drawing a customer into an engaging relationship at every point of contact, from online to advertising to marketing to sales.
____________________________________________
The Valcort 35 Keys to Business Growth Over many years and hundreds of client relationships and strategic marketing opportunities, we have established the Valcort 35 Keys to Business Growth, best practices that build trust, align values with products and practices, and create organic growth. We are exploring these 35 practices, one at a time, on these pages. Find them all, as they're introduced, here.
Tags:
customer touchpoints
,
every point of contact
,
Valcort
,
Valcort 35 Keys to Business Growth
---