The 10 Best Super Bowl Ads of All Time
Watching what most analysts saw as a relatively weak field of  Super Bowl ads in 2015 left us yearning for a look at the great ads from years past.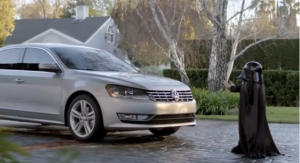 What have been the best Super Bowl ads of all time? You'd get a lot of different opinions on that question. But we found that there is rather common support for several favorites over the last 30 years.  Here's a list (and links) we've compiled from many sources and lists—The 10 Best Super Bowl ads. Enjoy.
But before you view the favorites, what should a Super Bowl commercial do?
Stand out, get noticed, be remembered. Many ads stop there.
Be associated with the brand. Often you remember the ad, but not the brand.
Provide a message that communicates why the product or service is unique and better than competitors, or at least provide an image that target consumers would want to identify with. Many ads have no real message (their goal is simply to get noticed), or the message doesn't say anything relevant about brand quality or contribute to a positive brand image. There's nothing to make you want to try the product or switch brands.
Be likeable so you feel favorably toward the brand.
See what you think.
1. Apple. 1984
On January 22, 1984, the first-ever Macintosh was introduced in this groundbreaking commercial. The Ridley Scott directed ad featured a woman taking out "Big Brother" (IBM) in a nod to George Orwell's 1984. The commercial brought Super Bowl commercials to a whole new level. It treated advertising like a movie and it helped make Super Bowl advertising must-see TV.
2. Coca-cola.  Mean Joe Greene, Hey Kid, Catch 1980
Coca-Cola put the popularity of player Charles "Mean Joe" Greene, who was widely considered the cornerstone of the Pittsburgh Steelers' legendary "Steel Curtain" defense, to good use. Killing him with a Coke and kindness, a young fan makes the player's day and, feeling freshly revived from the mood-boosting soda, Mean Joe returns the favor.
3. McDonalds.  Michael Jordan & Larry Bird Showdown  1993
How far would two of the greatest basketball players go for a Big Mac? That's what McDonald's tried to answer with this classic ad starring Michael Jordan and Larry Bird. The NBA legends tried to outdo each other in a ridiculous game of H-O-R-S-E. The ad remains popular – it has over 5 million views.
Before they relied on talking babies, E-Trade reeled in viewers with this tongue-in-cheek commercial. It opened with a couple of elderly men in a garage clapping offbeat to "La Cucaracha" while a monkey in an E-Trade shirt does a little dance on top of a garbage can. The punchline? "We just wasted two million dollars. What are you doing with your money?" Actually…that's genius.
5. Reebok.  Terry Tate Office Linebacker
Sometimes the office needs some serious motivation. That's where Terry Tate "Office Linebacker" comes in. He not only got workers' productivity to increase, he caused lots of mayhem. And laughs.
6. Monster.com. When I Grow Up  1999
There was a time when Super Bowl ads were dominated by dot-coms from the tech bubble of the late '90s. The one that really stood out was this commercial from Monster.com, which starred children sharing their dreams of the future. Instead of the usual and optimistic responses, the kids dreams included "When I grow up, I want to be in middle management." It was funny, yet kinda depressing.
A simple, yet brilliant, ad by one of the companies to keep an eye on during the Super Bowl. During this commercial, we catch frogs beginning to croak out "Bud." "Weissssss." "Errrrrr." "Buuuuud." "Weeeeiiiiissss." "Er." Despite the simplicity, the spot is one of Budweiser's greatest.
This commercial thrust Betty White back into the national spotlight. Nothing spells laughter like Betty White getting tackled into the mud or trading 'girlfriend' insults with her teammates. All she needs is a candy bar to get her energy back up. It turns out that the elderly actors were really some young men who needed a Snickers because they were hungry. The campaign is still running, and hasn't gotten boring since new actors are rotated into the ads.
In this modern classic commercial, a cute little kid dressed as Star Wars' Darth Vadar tries to use The Force on his dog and on his sister's doll, to no avail. He then turns his powers to the family Passat. Success. He starts the car with his hands (thanks to Dad and his remote engine starter). The kid looks startled and amazed by his newfound powers. All we can say? The Force was definitely with VW when it created this ad—it had over 2 million hits just one day after it aired.
10. Diet Pepsi.  Michael J Fox, New Neighbors 1987
How does Michael J. Fox keep his beautiful neighbors happy? With Diet Pepsi, of course. Only problem is he's completely out. What will he do….
Super Bowl Extra
The best of the 2015 Super Bowl ads was the Budweiser Lost Puppy spot, in a runaway among viewers that were polled. While it doesn't directly relate to the brand and it's not realistic or something users identify with. Nevertheless, it works on different levels: Great music, good, memorable use of the Clydesdale's that are inextricably tied to the brand. An emotional mini-story that makes you feel warm & fuzzy, which transfers positive emotions to the brand.
Tags:
best Super Bowl ads
---